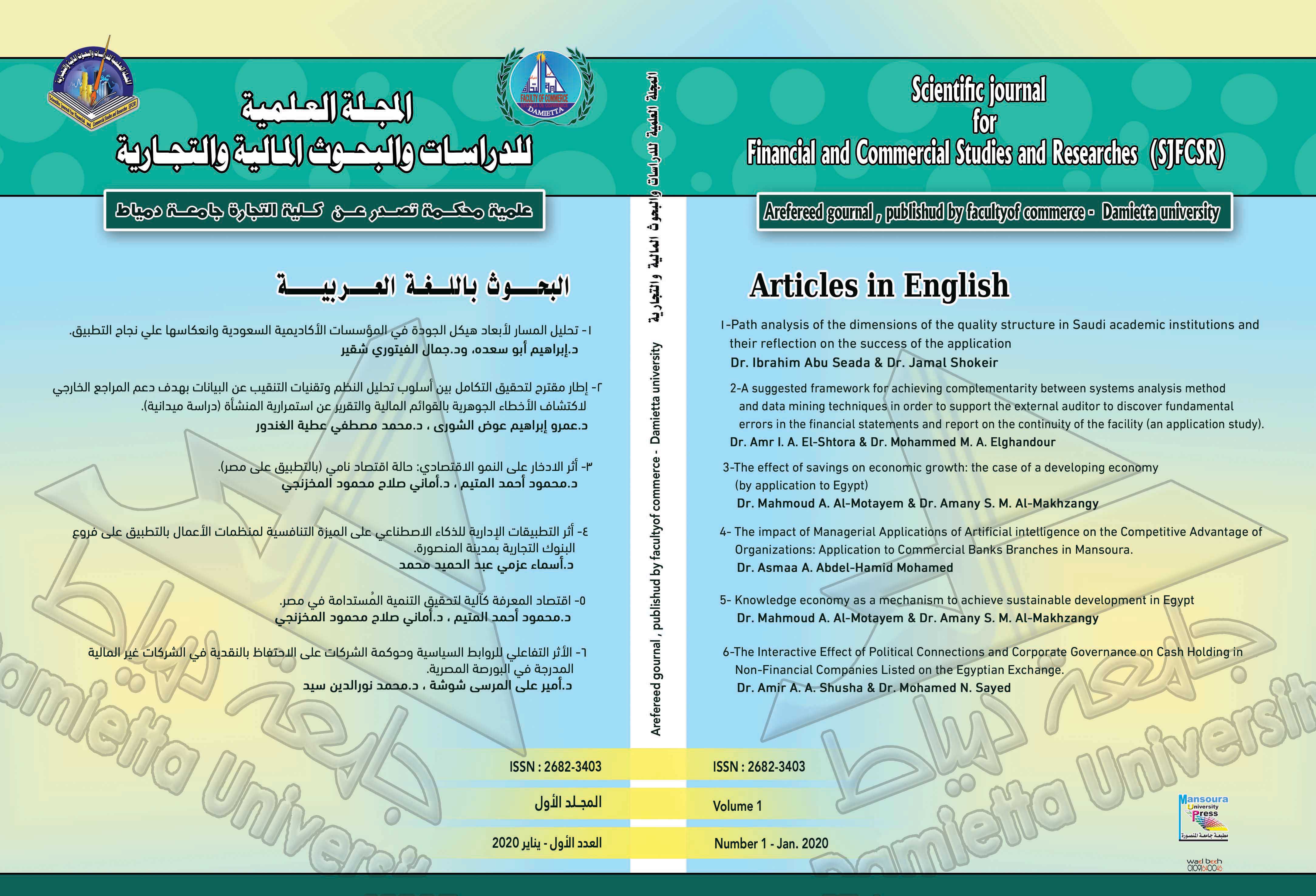 On January 2020, the first volume of the Scientific Journal of Financial and Commercial Studies and Researches was issued by the Faculty of Commerce - Damietta University. This issue will include the following research in arabic and english language:
-Articles in English language:
1- Path analysis of the dimensions of the quality structure in Saudi academic institutions and their reflection on the success of the application.
Dr. Ibrahim Abu Seada & Dr. Jamal Shokeir
2- The effect of savings on economic growth : the case of a developing economy (by application to Egypt).
Dr. Mahmoud Ahmed Al-Motayem & Dr. Amany Salah Al-Makhzangy.
3- A Suggested Framework For Achieving Complementary etween Systems Analysis Method And Data Mining Techniques To Support The External Auditor To Discover Fundemental Errors In The Financial Statements And Report On The Continuity Of The Facility.
Dr. Amr Ibrahim Awd El-Shora & Dr. Mohammed Moustafa Elghandour
4- The impact of Managerial Applications of Artificial intelligence on the Competitive Advantage of Organizations: Application to Commercial Bank` Branches in Mansoura.
Dr. Asmaa Azmy Abdel-Hamid Mohamed
5- Knowledge economy as a mechanism to achieve sustainable development in Egypt.
Dr. Mahmoud Ahmed Al-Motayem & Dr. Amany Salah Al-Makhzangy.
6- The Interactive Effect of Political Connections and Corporate Governance on Cash Holding in Non-Financial Companies Listed on the Egyptian Exchange
Dr. Amir Ali AL Morsi Shusha & Dr. Mohamed Noreldin Sayed
In 2019, the Scientific Journal of Financial and Commercial Studies and Research (SJFCSR) was established, the first issue of it was published in January 2020. The SJFCSR is a refereed scientific journal concerned with publishing original research written in Arabic and English, as well as book reviews, abstracts of theses and scientific reports in any field related to financial and business sciences, including: financial accounting, cost accounting, auditing, Organizational Behavior, Marketing, Managerial Decision Making, Finance Management, Human Resource Management, International Management, Global Comparative Management, Operations Research in Management, Economics, Public Finance, Comparative Tax Systems, Strategic Management, Environmental Management, TQM, And stock markets, Statistical Applications in Commercial Science, Mathematics of Insurance, Portfolio Analysis, and Risk Management.
SJFCSR welcomes the publication of manuscripts that will develop theories, test and enrich financial and business practices, and give priority to research that provides scientific and practical solutions to the financial and administrative problems faced by organizations. The SJFCSR is characterized by a broad base of reviewers working in various Egyptian and Arab universities. This has had a great impact in enriching the process of reviewing the journal's researches, and working to promote scientific research and develop research efficiency to serve the researcher on one hand, and raise the level of research published in the SJFCSR on the other hand.
The SJFCSR is published every six months (January and July) and is aimed at professionals in accounting, management, economics, statistics and insurance from academics, practitioners and decision makers.
---